COLD ROLLING MILLS: FURNACE
From steel and paper to plastic films, we have installed thousands of standard and customized force and web tension systems. BLH Nobel designs force measurement modules according to the customer's mechanical requirements and forces, ranging in size from just a few Newton to mega-Newtons. BLH Nobel's PST Web Tension Measuring Units are used for steel strip in galvanizing or hardening/annealing furnace. It allows a great thermal expansion of roller and can measure the exact resulting force of the strip tension.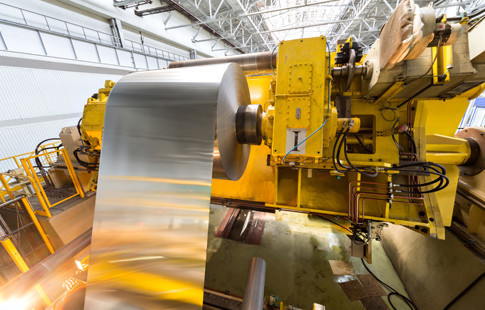 Accurate Measurement of Strip Tension
BLH Nobel's PST force measurement unit are specially designed for the process line furnaces. The specifications are the same as for our FMU measuring units in the process lines but with the ability to absorb very high axial forces from the thermally expanded furnace rollers without affecting the measurement precision, even in low measuring ranges. This is unique in the market. There are also EX approved versions.
Internally Compensated Setup
Thermal expansion of the roller induce large axial force and moment that is not to be measured by the force-measuring unit. BLH Nobel's PST force measurement blocks can easily compensate for by the unique capabilities of our built-in KIS load cells and the symmetric positioning of four KIS units, relative to the bearing application point.
No need of extra bearings to accommodate the expansion. Only the strip tension is measured and transmitted to the control system.
We provide the unique PST force measurement block together with junction box and a complete range of transmitters with many supported fieldbuses. Moreover, we can supply all types of cabinets (size, material, color etc.) to house the instrumentation and we support on-site calibration services worldwide.