HIGH RELIABILITY LABORATORY
BLH Nobel offer calibration services to insure our products perform with high accuracy and high consistency. Calibration services have been part of our company throughout our history. Our highly experienced and skilled team of experts provide the best calibrations to keep your product performing at its high accuracy and reliability levels you are used to.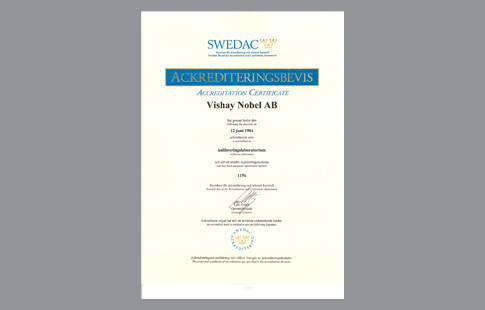 Accredited Calibration Services from BLH Nobel
'Accredited laboratory' is a formal recognition of an organization's technical competency to perform specific types of tests or calibrations. Accreditation is given only to those laboratories that can demonstrate an on-going competence in their field of testing or calibration, and that confirm to the requirements of ISO/IEC 17025: General Requirements for the Competence of Testing and Calibration Laboratories. At BLH Nobel, we have adequate equipment and long-terms experts with the high level of technical competence to perform all tests and calibrations required.
Accredited Laboratory
BLH Nobel has been in compliance with standard SS-EN ISO 17025 since 1984, and provides calibration services to customers worldwide as an Accredited Force Laboratory. We calibrate the production masters in our Sweden based facilities once a year, which gives us full traceability to national and international standards on all produced load cells. Calibration can be performed according to BLH Nobel validated methods or according to SS-EN ISO 376 standards.
Laboratory Manager
Henrik Helmersson
+46 586-63071
henrik.helmersson@vpgsensors.com
Calibration Technician
Johan Erlandsson
+46 586-63073
johan.erlandsson@vpgsensors.com
Trustworthy Performance Standards
BLH Nobel's accredited force laboratory in Sweden (AMP 1156) performs calibration of force transducers according to BLH Nobel's own, validated methods or SS-EN ISO376 with full traceability to national standards since 1984. The laboratory is accredited in force ranges from 2 N to 2 MN, with best measurement capabilities of 2N to 2 kN 0.02%, 2 kN to 1 MN 0.05% and 1 MN to 2 MN  0.1%.