BLH NOBEL – FOR YOUR REPAIR NEEDS
We support the entire lifecycle of our solutions. Our system engineers follow every project from concept design to implementation, training of local end users or installation support, commissioning or performing system start-up. Our service teams are available all over the world and there to answer your questions and provide on-going field service and maintenance. All of our solutions come with a full package of documentation and drawings, continuously updated and available in multiple languages.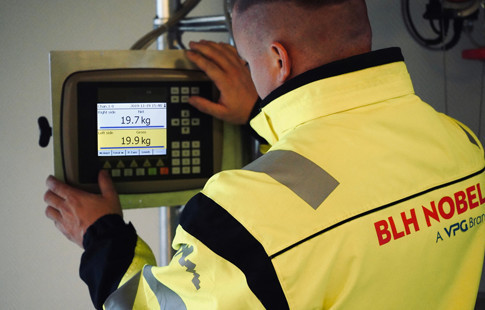 BLH Nobel Supports You From Two Main Service Offices
North America
951 Wendell Blvd.
Wendell, North Carolina 27591
United States
Phone number: +1 781 298 2200
Europe
Vishay Nobel AB
Skrantahöjdsvägen 40
Karlskoga 691 46
Sweden
Phone number: +46 586 63000
Accredited Force Laboratory
Load cells and force measurement systems used for verifying measurements should be calibrated on a regular basis to ensure precise, accurate performance. We offer calibration services for both electronic and mechanical force measurement equipment – upon request including the weight indicators.
Trustworthy Performance Standards
BLH Nobel has been in compliance with standard SS-EN ISO 17025 since 1984, and we've provided calibration services to customers worldwide as an Accredited Force Laboratory. Our own BLH Nobel laboratory in Sweden (AMP 1156) performs calibration of force transducers according to our own validated methods or SS-EN ISO376 with full traceability to national standards. The laboratory is accredited in force ranges of 2 N to 2 MN, with best measurement capabilities of 0.05 – 0.1%.