25 Years of Successful Partnership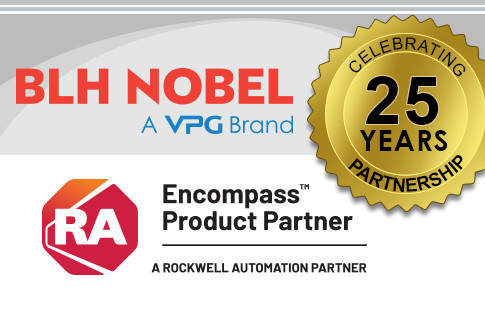 Recently, during the 2019 PartnerNetwork™ conference held in Los Angeles, CA, Rockwell Automation® recognized BLH Nobel as a 25-year member of the Rockwell Automation Americas Encompass™ Partner Network. BLH Nobel is looking forward the many more years to come.
About the Rockwell Automation Partner Network Program
Through Encompass Product Partners, customers can quickly locate complementary products that best solve application challenges. These products are critical components or connectivity solutions that extend and enhance Rockwell Automation installations.
The program offers global manufacturers access to a collaborative network of companies mutually focused on developing, implementing and supporting best-in-breed solutions to achieve plant wide optimization, improve machine performance, and meet sustainability objectives.
BLH Nobel Products
Many BLH Nobel instrument products have been referenced in the Rockwell Automation Americas Encompass program in the past quarter century. Through Encompass, BLH Nobel brings high-quality solutions to Rockwell Automation customers seeking best-in class solutions for their industrial process and test & measurement applicationsto virtually any type of application requiring weighing or force measurement.
Recent addition to the portfolio of approved products is the 1756 PLC Weigh Module, a dual-channel plug-in weighing module specifically designed for integration with the Allen-Bradley 1756 ControlLogix® Chassis.
Meet us at Automation Fair
BLH Nobel will be exhibiting at the Automation Fair® event, November 20-21, 2019, at the McCormick Place in Chicago, ILL.   This event is the key annual event for the Rockwell Automation ParterNetwork™ members. 
Rockwell Automation, Automation Fair, PartnerNetwork and ControlLogix are registered trademarks owned by Rockwell Automation.