PROCESS WEIGHING OF SILOS, TANKS AND MIXERS
Accurately measuring silos with fluids is a common challenge many companies are facing. It is hard to achieve accurate  measurements from silos with fluids containing yeast or frequent  change in density. BLH Nobel provides reliable solutions for accurate and repetitive silo tank and vessel weighing, using our unique KIS load cell technology – even the fluids inside are moving constantly.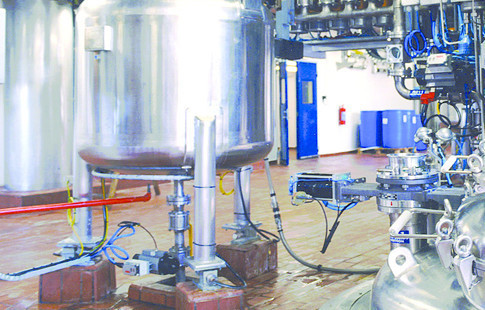 Reliable Weighing with BLH Nobel
Flow or level measurement in processes with heated or agitated liquids are likely inaccurate. Process weighing measurement is not affected by fluid density changes happening during production treatments and will remain accurate throughout the complete process. The skilled  BLH Nobel team will  find the right equipment for your process weighing need and based on their experience make it the perfect fit.
KDH-5 Weigh Module
The KDH-5 weigh module combines high accuracy with a compact and robust mechanical construction. The sensing element consists of three sections. The two outer parts function as supports and rests on the built-in block, mounted to the base. The middle section builds the load sensor. A yoke is mounted to the leg of a tank or vessel  and transvers the weight on the sensing part. The sensor it is designed not to twist in the built-in block, which makes the KDH-5 insensitive to side loads. Furthermore, the sensing element can easily be replaced or removed, e.g. to allow for a dummy installation for vessel weighing during assembly.