ARTICULATED HAULERS
On-board weighing system are used for payload optimization  at every cycle. This maximizes production output, boosts fuel efficiency and reduces machine wear in all site conditions and operations by avoiding overloading. At BLH Nobel, we have a deep knowledge of on-board weighing systems for heavy off-highway vehicles, which is based on our experience and expertise of the weighing industry. We deliver load cells and amplifiers that meet the harsh conditions construction equipment is facing and meet automotive standards.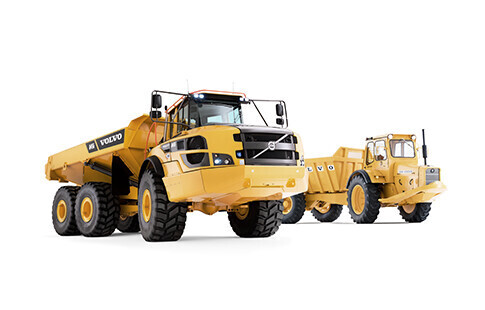 Volvo CE On-Board Weighing System
In cooperation with Volvo Construction Equipment, BLH Nobel developed a state-of-the-art on-board weighing system. BLH Nobel delivers custom amplifier and load cells that are produced in Degerfors, Sweden. The system is currently used as an optional feature available to Volvo CE's articulated haulers, and as standard feature in some regions of the world.
We know On-board Weighing
BLH Nobel also developed on-board weighing systems for further  well-known hauler manufacturers. These systems are based on load cells or extensometers in combination with customer- and vehicle-specific software. Integrated angle sensors allow the compensation of roll and tilt angles. The tailored software calculates the weight value according to a special algorithm from the signals of the load cells or extensometers and the signals of the angle sensors.
BLH Nobel has been a partner in development projects for several large vehicle manufacturers and is very knowledgeable about demands, standards and certification within the industry. Thousands of BLH Nobel On-Board Weighing Systems are operating all over the world.
Browse our standard product catalog for automotive suitable devices and keep in mind that we can customize hardware and software in-house to your specific needs – contact us