BLH NOBEL: EXPERTS in CRANE WEIGHING SAFETY
By monitoring all forces during the use of a crane automatically, the safe working period of the crane can be extended for many years. Strain Gage/Strain Gauge Load cells have been installed in cranes for weighing and overload protection and life cycle measurement for many years. A pin load cell can easily replace existing shafts without a need of expensive modifications.
Today the accuracy of these together with compensating systems are so precise that a crane scale can replace a static floor scale  and improve production efficiency by minimizing the need for stops due to weighing goods during the regular transportation processes.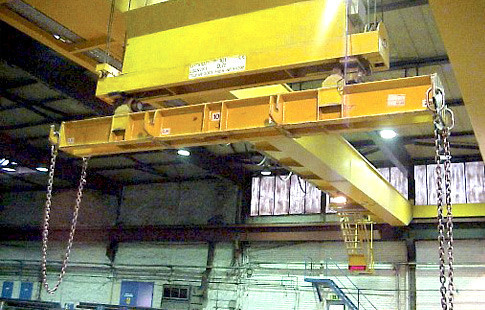 Retrofitting Crane Weighing Solutions for Load Optimization and Safety
Whether you have the need for a custom or standard crane weighing solution, BLH Nobel is the premier provider for safe, reliable and accurate products. Our load cell and instrumentation systems provide best in class lifting devices for a variety of applications and segments. BLH Nobel has a worldwide presence as an industry leader. Our experts have decades of knowledge in the implementation of successful weighing solutions. Our dedicated team members are always available to discuss new and challenging applications.

Safe and Reliable Crane Usage
BLH Nobel provides reliable, compliant and cost-effective solutions for life cycle measurement and overload protection for cranes. Our load cells perform even in the harsh offshore environment, providing lifting capacity of thousands of tons. An example of a load cell that can be used in a crane weighing solution is KIMD-6.
We can also work with you to provide custom-designed load cell solutions that fit existing equipment and install with minimal downtime.
High Accuracy Weighing Embedded in Your Equipment
BLH Nobel provides highly accurate embedded weighing solutions, even up to legal-for-trade standards (OIML). Our solution increases process efficiency by enabling weighing while lifting, which eliminates the need to put the load down on scales between each step of the process.
Our user-friendly instruments and software provide all the information needed to control your crane's performance and safety, and are in compliance with European and American safety regulations. We have specially designed crane weighing software for our state of the art G4 instruments.
Solutions For Crane Weighing
---