COLD ROLLING MILLS: STRIP TENSION
High consistency in rolling mill operation requires a high accuracy in tension measurement. The BLH Nobel strip tension systems for rolling mills measures the actual resultant strip tension force, as opposed to measuring the indirect force given by the electrical drives current, increasing measuring accuracy and reactivity.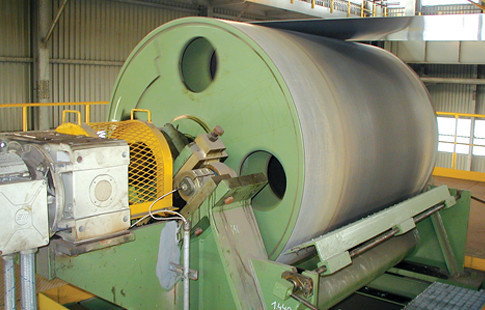 High Quality Rolling Mill Process 
BLH Nobel's strip tension load cells, measure only the resultant force independent of its direction and is not limited to horizontal or vertical component force. Our strip tension measurement devices are available with capacities ranging up to 800 kN while keeping very high accuracy performance up across a very wide measuring ranges. In combination with additional benefits like: zero maintenance, simple retrofit, and long-term reliability, these features make BLH Nobel strip tension measurement solutions the best choice for your mill, when it comes to high accuracy, high reliability and high consistency.
Strip Tension Solution for Processing Lines
BLH Nobel customizes the FMU tensiometers for each installation, which eliminates the need for adapter plates. The sensing elements are high-accuracy standard load cells for weighing applications, which assures low cost of ownership due to highly price competitive spare parts combined with quick and easy maintenance. Connected to BLH Nobel transmitters, our FMU units build a complete strip tension measurement system.
Due to their unique mechanical design, the FMU web tension unit delivery high-accurate measurements across a very wide range from only a few percent up to the full measuring capacity of the unit. We provide the FMU, but we supply also the junction boxes and a complete range of transmitters with many possible fieldbuses.
Moreover, BLH Nobel is able to supply all types of cabinets (size, material, color) for the transmitters and on-site calibration worldwide.