TILTING ROTARY FURNACE WEIGHING
For melting highly contaminated scrap containing salt, tilting rotary furnaces are the by far most common equipment. Already in the 70s, BLH Nobel began to manufacture weighing systems for tilting rotary furnaces, in particular aluminum ovens. Due to these many years of experience BLH Nobel are experts for weighing systems for the steel and aluminum industry, offering our customers a very durable and stable system accuracy at exact reproducibility and consecutive cost savings in production due to  allowing for very precise  dosing of alloying additions.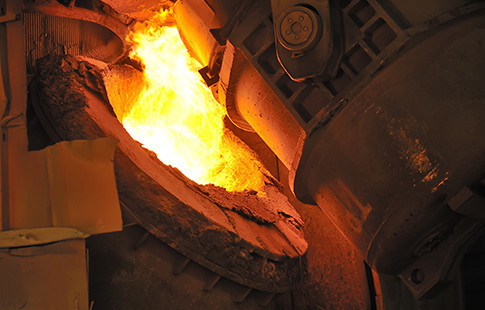 Precise Dosing in Aluminum Production
When measuring the net content of a holding and melting tilting furnace for aluminum, the weighing equipment is facing high demands for measurement stability and requires a temperature-resistant design. The operating temperature of BLH Nobel tilt furnace weighing systems ranges up to more than +150° Celsius. All of our furnace weighing solutions come with a high repeatability, as our robust load cells are insensitive to weight distortion, weather the furnace is in a fixed or tilting position. To make it even better, BLH Nobel is capable to design and manufacture custom-made load cells and load pins that fit into your existing furnace design, allowing to equip or upgrade your installation with no structural changes.
Durable Sensors for Harsh Environments
Aluminum melt is kept at temperature in a tilting melting furnace for both intermediate storage and alloying. Heavy load transducers are used to measure the net content. For this purpose, the high-temperature load cells are placed below the furnace. Our DSA-R and KIMD series load cells are a perfect choice for the harsh environments of steel industry production. For existing furnaces, BLH Nobel  is able to produce custom load measuring pins, replacing the existing pins in the tilting bearings and the hydraulic cylinders.
State of the Art Instrumentation
The G4 weighing processor, which is based on PC technology, enables further customer-specific evaluations such as: long-term observation of the dead weight to facilitate conclusions about the furnace bricking up, through-flow quantity measurement, slag measurements, and further features of BLH Nobel developed application specific software
Advantages for the customer:
High-precision weight measurement even under the toughest operating conditions and extremely high temperatures
Exact dosage of alloying additions
High repeatability of measurements and long-term stability
Maintenance-free weighing system, as no rods, stops or other assembly aids are required
No force shunts due to mounting parts or rods
Various statistical evaluation possibilities can be realized customer-specifically