WINCH LOAD MEASUREMENT
Extreme environmental conditions can disrupt offshore operations. Our robust load cells are built to withstand harsh environments and ensure accurate force measurements on mooring chains and winches. Give our extensive knowledge in the Offshore industry, BLH Nobel can offer you high quality customized solutions tailored to your application.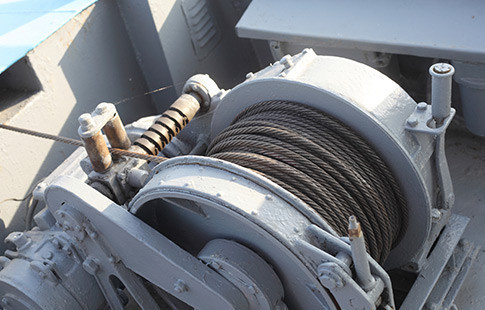 High Ingress Protected Load Cells
Our load cell engineers design products that offer the best combinations of robustness, reliability, and accuracy to fit specific requirements of forces or weights, space, accuracy, and environmental conditions.
The KOSD double-ended shear beam with circular cross-section offers a robust construction with high ingress protection for force measurement. We also offer the high accuracy KIMD load cell, our double-ended shear beam with an I-beam cross section. The high accuracy combined with no side load sensitivity will solve the most demanding load case with alternative angles of the wire or chain.
Increase Safety with Reliable Load Cells
A mooring system prevents the ship from drifting away from a berth and holds the ship in position in relation to the shore loading / discharging equipment, which may have limited freedom of movement. A mooring winch is an integral part of the mooring system and is used to pull in (wind up) or let out (wind out) or otherwise adjust the tension of a rope. The winch load measurement provide the monitoring system on the rope tension to control the ships position to improve safety operation in the harsh environment.
BLH Nobel has been supplying load cells to the offshore industry for more than 50 years. Our solutions are often found in winches and mooring applications as well as cranes. All our load cells can be delivered with embedded amplifiers with an output signal of 4–20 mA; either fixed or field replaceable (plug n' play) version. They are available with ATEX, IECEx, and standard Ingress Protection IP67 (IP68 available).