QUICK RELEASE HOOK
A Quick Release Hook (QRH) is a special ship equipment and the foundation of today's mooring systems. A load cell installed on a Quick Release Hook can improve mooring safety and efficiency by sensing the tension force on the hawser. In emergency or overload situations, Quick Release Hook  will actively release the hawser to free the ship. BLH Nobel can provide reliable, safe and easy to install equipment in compliance to international standards.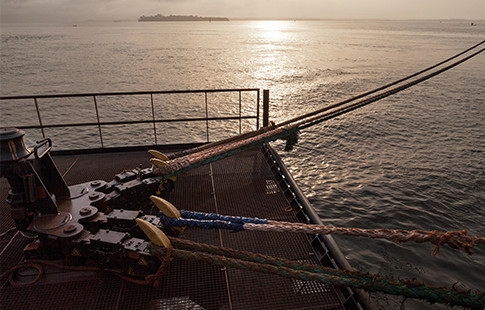 Force Measurement System
The Quick Release Hook (QRH) can be installed on-shore or on-deck. To protect the rope and for ship safety we install a force measurement system to facilitate the quick release hook feature in existing mooring systems. Our KOSD load cell with wide capacity ranges can be customized to replace  existing load pin at the exact dimensions of the original equipment. BLH Nobel solutions include the design of  special brackets for cable gland protection for unparalleled reliable and easy operation in harsh offshore conditions.
KOSD Load Cell for Offshore Applications
KOSD is a double-ended shear beam with circular cross section. The cylindrical shape makes it easy to replace an existing pin. Its rugged and compact design with high ingress protection and overload protection specifications makes it perfectly suitable for harsh offshore environments. When installed in a module, the KOSD is suitable for high capacity level monitoring and weighing. All KOSD load cells can be ATEX/IECEx certified for use in explosive atmospheres and adapted for other dimensions and capacities – going way beyond the specifications of the standard versions.