VESSEL MIXING AND AGITATION
Whether producing a powder or a liquid, any manufacturing process involves processes mixing, blending, cooking or agitating various ingredients. Production processes need to be absolutely repeatable to ensure consistent quality. Weighing systems with specifically designed load cell modules achieves this high demand for accuracy, repeatability and consistency for many different industry sectors.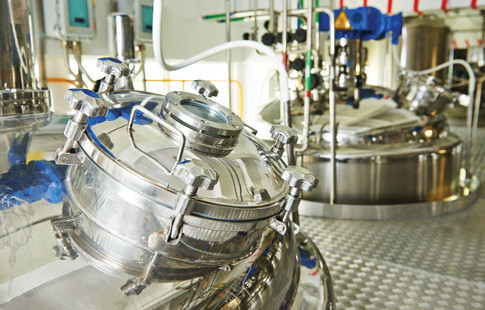 Vessel Movement? Not a Challenge!
Reactor vessels are equipped with a variety of mixing paddles and vibration systems to  mix large amounts of product ingredients inside quickly. These can be a viscous liquids that cause turning moments and sway of the vessel on its mounts.
The unique BLH Nobel KIS load cell modules are perfect-designed for such situations, which makes them virtually insensitive to  side forces from a twisting vessel. The double-cantilever technology of KIS load cells allow for vertical load movement across the pin surface, resulting in true vertical force measurement.
Various Forces Considered
BLH Nobel engineers work closely with customers to understand the environment and conditions their weighing system is facing, no matter if it's a new design or an upgrade of existing equipment. A Full understanding of the vessel design and recognizing potential forces is a mandatory part of the smart solution BLH Nobel  will provide, resulting in a very reliable and highly repeatable monitoring system.
KIS load cell modules have accuracy levels of 0.02% and repeatability figures of 0.01%, which provide customers with high confidence in the process and batch-to-batch repeatability. BLH Nobel also offer an extensive range of compatible instrumentation and the rather unique capability to provide and custom develop  software options to suit various applications.