THERMAL EXPANSION WEIGHING
Batching during heating or agitation is a typical challenge for accurate control of process weighing applications. Vessels used in mixing, blending and cooking applications with heating elements will expand and contract during heating and cooling processes, which affects the sensing system monitoring the process. The unique design of the KIS load cell family allows for movement of the loading point along the beam, which is the characteristic  advantage of the KIS double cantilever technology.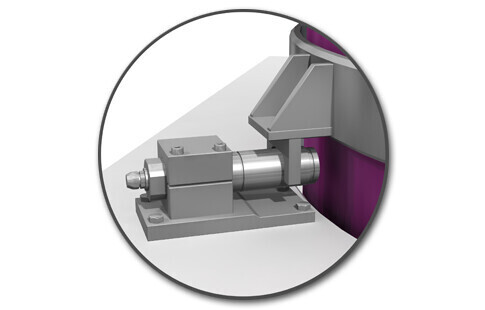 KIS Weighing Modules
Our unique KIS Beam load cell provides accurate measurement in the most demanding process environments. From straightforward weight measurement to accurate control during heating and mixing processes - the KIS load cell can it all.
The KIS double cantilever technology allows for the movement or sliding of the load on the beam underneath each leg of the vessel, with negligible effect on the output from each load module. This means not only that measurement is insensitive to side load forces; it also reduces significantly bending stresses within the mount.