CONVERTER WEIGHING
The steel industry is characterized by tough environments and harsh conditions, which requires robust equipment that can sustain the challenging environment and still deliver highly accurate and reliable results. BLH Nobel is a well-known designer and manufacturer of durable weighing systems for the steel industry since the 1960s. You can rely on us to deliver a smart process weighing solution for your particular demand.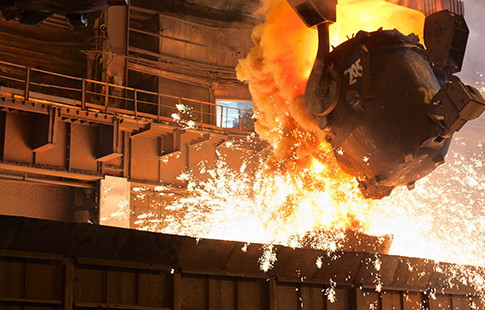 Optimizing LD Converter Refurbishment
Basic oxygen steel production uses Link-Donawitz converters. An LD converter has a thick lining of refractory brick. Brick and tap holes are worn and typically require replacement in intervals of 8-10 weeks.  Material sticking to the wall, increasing the thickness of the brick  can lead to over cooking, causing an unscheduled stop in production and high cost. BLH Nobel offers a smart and durable solution for optimizing the refurbishment interval and avoid unexpected overcooking events. Our KIMD load cell can handle the heavy weight of any converter and provide very high and stable weight measurement accuracy, giving our customers an optimized control of the converter condition and allow the funace body to be refurbished before it boils over.