CASE STUDY FOR SCIENTIFIC MEASUREMENT
OF HUMAN FORCES
THE CHALLENGE
The Swedish School of Sport and Health Sciences, GIH, is one of the most prominent university colleges in terms of advanced research in sports and health. Founded in 1813 makes it also the oldest university college in the world within its field. GIH stands for Gymnastik- och idrottshögskolan.
GIH has extensive research in Stockholm, Sweden, in a variety of areas within sport and health sciences. Amongst others, the research covers applied sport science such as in canoeing, where the power during paddling and forces within the seat and footrests are measured and studied. Some equipment is used in the laboratories to study the muscular forces to improve the athletic performance such as tests of maximal strength in the lower-body in different isometric positions which have proven to correlate well with dynamic strength and functional performance measures. BLH Nobel have been supplying technical measuring equipment to GIH since the 1980s.
With suitable equipment and methods in training and testing, performance improvements can be achieved – even for already highly trained professional athletes. For adequate data collection, GIH is in need of measuring equipment capable to respond quickly to applied forces in test setups and with output as diagrams that show the measured force over time. Besides highly accurate measurement equipment, this demands for a very fast collection of data and speedy and lossless digital transfer of the same.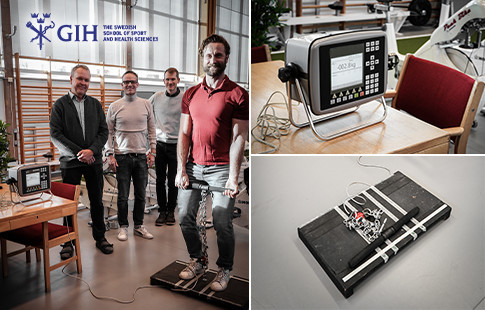 BLH Nobel has upgraded GIH's measuring equipment with two G4 instruments in the Applied Sports Science Laboratory in order to satisfy the increased performance demands. This allows the researchers to collect and store measurement data and analyze the results with required sensitivity and frequency. One G4 instrument is equipped with 8 force channels which enables data collection from up to 8 different sensors in one experiment (or from one sensor in 8 experiments) using different load cells to each individual channel.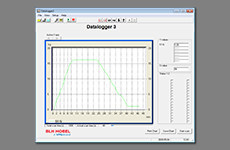 The G4 instruments measures the force and transfers the data to BLH Nobel's Datalogger software for PCs, with further exporting functionality. With its high accuracy and fast sample rates the G4 instruments are an excellent solution for scientific use.
With the measuring equipment upgraded to the edge of technology, the researchers at GIH is capable to take adequate measurements and view in granularly what forces athletes apply. This provides the important information needed for a better understanding about how methods in training may be improved for performance enhancement, injury prevention and health improvements. BLH Nobel is happy to strengthen The Swedish School of Sport and Health Sciences, GIH in keeping the high competition level in scientific and commissioned research as it currently has.
Customer Quote
"Researchers at GIH find the instruments from BLH Nobel suitable for data collection in a number of experimental setups and appreciate the high quality standard making them useful for several research purposes. Furthermore, the great support from and expertise knowledge among the BLH staff is highly valued."