Pitch Compensation System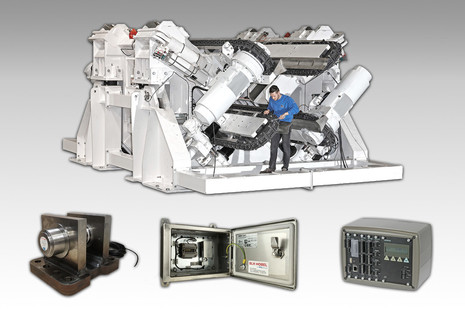 Cable laying operators appreciate actual forces through vessel movement
Following out tagline "Smart Solutions for Demanding Industries" BLH Nobel is proud to present the Pitch Compensation System.
Ideal for cable laying operations, one of the system's unique features is measurement of force and tension applied – for optimized handling with accuracy and reduced wear and tear. The PCM system typically consists of specially-designed load cell, a G4 instrument with software specifically developed for this application and a pitch control module.
Load cells between the equipment and the vessel deck, measure tension forces. The unique design of these weigh modules allows the unit to ignore "side loading" from vertical influences.
The pitch compensation module is connected to the G4, as well as each load cell module, to monitor the pitch and movement of the vessel. The data is fed back to the G4 for synchronised monitoring and instant response.
Through the application-specific, the G4 instrument allows the operator to appreciate forces applied to each load cell module under the equipment, the pitching output from the vessel movement and the corrected tension/force measurement. Data logging such forces gives evidence for the end user that the product was laid correctly and damage free.
Our BLH Nobel UK team lead the development of this solution in direct reaction to market demands. Please contact our UK BLH Nobel experts or any other of our global teams with any question in regards to this specific or any other offshore market related question.
For decades, BLH Nobel has been a key player for very specific applications to boost efficiencies in the offshore, providing highly reliable components like pressure transmitters, fully customized pin load cells or system solutions like the pitch compensation system.
Related Products
G4 DIN Rail Mount - Advanced Process Control Instrument
Additional Information