BLH Nobel Launches G5 Instruments: Advanced Solution for Industrial Weighing and Force Measurement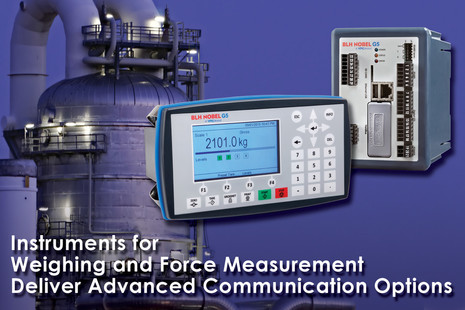 Malvern, PA, USA | Vishay Precision Group, Inc. (NYSE: VPG) today announced that its BLH Nobel brand has introduced the new G5 family of weighing instruments, the latest generation of the company's modular high-speed systems for industrial weighing and force measurement applications. Featuring a new hardware platform with extensive communication capabilities, the G5 family increases speed and performance, offering intuitive operation, easy calibration and advanced diagnostics. Leveraging the flexibility of the BLH Nobel G5 units, industrial plants can easily meet today's complex application demands while adapting to tomorrow's evolving requirements.
BLH Nobel G5 instruments support a wide range of industrial applications, including process weighing and control, force measurement, factory automation, high dynamic force measurement, and high-speed batching/blending systems.
Through a built-in Web server, the G5 instruments speed up set-up and simplify parameter changes, enabling remote operation from any PC or mobile device with a Web browser and Ethernet connection. Weight and status are instantly displayed alongside other parameters and diagnostics information via user-friendly operator interface.
Within the G5 family, there are two different mounting options: a panel-mount version for 24 V DC or 115/230 V AC operation and a rail-mount version for 24 V DC operation only. The panel-mount version comes equipped with a 4.3-inch high-resolution color screen that increases visibility and enables easy navigation through parameter settings and menus. For operators that do not require a screen, the rail-mount instrument offers a powerful yet cost-effective alternative.
Many industrial communication interfaces are supported, including Modbus/TCP, Ethernet/IP, FTP, HTTP, Profibus, DeviceNet, ControlNet, and Modbus RTU as well as the traditional RS485 and analog outputs. The user can configure the G5 digital I/O signals according to his discrete control requirements.
Software upgrades can quickly be made in the field using an SD card. Custom software designed to customer requirements for special applications is available upon request. Parameter backup and restoration is made easy via the G5's USB port, SD card, and internal memory.
Further information about the G5 instruments and other BLH Nobel products is available at www.blhnobel.com.
ABOUT BLH NOBEL
VPG's BLH Nobel brand is a world leader in process weighing and force measurement, producing high-quality and high-accuracy weighing and control systems. BLH Nobel load cells maximize accuracy and minimize the effects of mixing, agitation, and temperature changes in critical process stages. The brand´s products and customized solutions are designed to comply with stringent requirements of the pulp and paper industry, as well as process, mining, steel, and offshore industries. BLH Nobel offers a wide variety of communication protocols used in complex production lines and supplies system solutions, products, and services in more than 100 countries around the world.
ABOUT VISHAY PRECISION GROUP, INC. (NYSE: VPG)
VPG is an internationally recognized designer, manufacturer and marketer of: components based on its resistive foil technology; sensors; and sensor-based systems specializing in the growing markets of stress, force, weight, pressure, and current measurements. VPG is a market leader of Foil Technology Products, providing ongoing technology innovations in precision foil resistors and foil strain gages, which are the foundation of the company's Force Sensors Products and its Weighing and Control Systems. The product portfolio consists of a variety of well-established brand names recognized for precision and quality in the marketplace. To learn more, visit VPG at www.vpgsensors.com.